#5: Günther Deuschl – On the importance of transforming Deep Brain Stimulation to evidence based medicine
In this episode, Günther Deuschl shares insights about his life in neurology and the endeavors to transform deep brain stimulation for movement disorders as established treatment options supported by class one evidence. He has been instrumental in multiple major clinical trials, such as the randomized double-blind clinical trial for DBS to the subthalamic nucleus in Parkinson's Disease (Deuschl et al. 2006), a similar study for modulation of the internal pallidum in dystonia (Kupsch et al. 2006) and later the Earlystim trial (Schuepbach et al. 2013) – all published in the New England Journal of Medicine. He was president of the International Movement Disorders Society (MDS) from 2011-2013, Editor in Chief of the journal Movement Disorders and has been awarded numerous high-class awards in our field. He is an international capacity in the field of tremor and leads the study group for tremor in the MDS.
Günther Deuschl takes us on a fascinating journey into the past – where DBS was not as established as it is today – the present and the future – with emerging technologies such as MR-guided focused ultrasound and neuromodulation for psychiatric diseases.
References we talked about in the episode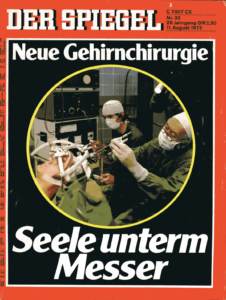 Article by "Der Spiegel" that according to Deuschl heralded the decline of psychosurgery in Germany
Colleagues mentioned in this episode include:
Michael Illert (Physiologist in Kiel)
Nils Lundberg (Neurosurgeon in Lund)
Richard Jung (Neurologist in Freiburg)
Fritz Mundinger (Neurosurgeon in Freiburg)
Traugott Riechert (Ophthalmologist and neurosurgeon in Freiburg)
Wilhelm Umbach (Neurologist in Freiburg)
Rolf Hassler (Anatomist in Freiburg, later in Frankfurt)
Christian Moll (Neurophysiologist in Hamburg)
Carl Hermann Lücking (with whom Deuschl moved from Munich to Freiburg)
Albrecht Struppler (surgical Neurologist in Munich)
Eduard Schenk (Neurologist/Neurophysiologist in Freiburg)
Paul Hoffmann (Physiologist in Freiburg)
Mahlon DeLong (Neurologist at Emory, in 1990 published a seminal paper paving the way to STN-DBS together with Bergmann)
Hagai Bergmann (Neurophysiologist in Israel who in 1990 published a seminal paper paving the way to STN-DBS together with DeLong)
Alim Louis Benabid (Neurosurgeon in Grenoble)
Christoph Ostertag (Neurosurgeon in Freiburg)
Volker Sturm (Neurosurgeon in Cologne)
Andreas Kupsch (Neurologist in Berlin, First-author in a large dystonia DBS trial)
Michael Schuepbach (Neurologist in Bern, First-author in the Earlystim study)
Maximilian Mehdorn (Neurosurgeon in Kiel)
Daniela Berg (Neurologist in Kiel, Deuschl's successor as head of the Neurology Department in Kiel)