Dr. Mark Richardson is the Director of Functional Neurosurgery at MGH and also founder of the Brain Modulation Lab
#35: Mark Richardson – Surfing the Frontiers of Functional Neurosurgery: From Brain Modulation to Patient Engagement
In this captivating episode, we had the privilege of interviewing Dr. Mark Richardson, an esteemed expert in the field of functional neurosurgery and the Director of the Brain Modulation Lab at MGH Neurosurgery. With a remarkable career path that spans from his upbringing in Poquoson, Virginia, to his medical and graduate education at UVA and VCU, Dr. Richardson brings a wealth of expertise and experience to the forefront of neuroscience.
Having served as the Director of Epilepsy and Movement Disorders Surgery at the University of Pittsburgh, Dr. Richardson's leadership and pioneering spirit led to the establishment of the Brain Modulation Lab. Since joining MGH in 2019, Dr. Richardson and his lab have been at the forefront of applying a systems neuroscience approach to enhance surgical treatments for epilepsy, movement disorders, and psychiatric diseases. Through collaborations with esteemed colleagues at MGH, MIT, Harvard, and Boston University, the lab aims to improve outcomes for patients undergoing functional neurosurgery.
During our conversation, Dr. Richardson shared fascinating insights into his journey, from his early education to his residency at UCSF and his subsequent leadership roles. We explored the mission and activities of the Brain Modulation Lab, delving into their innovative approaches to improving surgical treatments for various neurological conditions. From epilepsy and movement disorders to psychiatric diseases, Dr. Richardson's lab employs cutting-edge techniques and leverages interdisciplinary collaborations to drive advancements in the field.
We also discussed the exciting prospects of closed-loop deep brain stimulation (DBS) in epilepsy and its potential applications in focal epilepsy. Furthermore, we explored the efficacy and implications of incision-less approaches like FUS and LITT. Dr. Richardson offered valuable insights and shared his thoughts on the selection between CM-Pf and ANT in generalized epilepsy, shedding light on the role of these nuclei in the broader context.
Shifting our focus to speech and language research, we explored the overarching goals of Dr. Richardson's work in decoding speech and the potential of the basal ganglia in this context. Additionally, we examined the therapeutic applications of DBS in improving speech, considering its value in addressing other indications such as stuttering and apraxia of speech.
Intriguingly, Dr. Richardson's lab also investigates the realm of olfaction through invasive neurosurgery. We delved into their activities in this domain, gaining valuable insights into the importance of understanding olfactory processes and potential therapeutic applications.
Finally, we explored Dr. Richardson's commitment to patient engagement in research trials. We gained deeper insights into the lab's initiatives and approaches to involving patients in the research process, highlighting the significance of their contributions and the impact of patient-centered research on advancing treatments.
Join us for this engaging and enlightening conversation with Dr. Mark Richardson as we dive into the frontiers of neurosurgery and the groundbreaking work of the Brain Modulation Lab, paving the way for novel advancements in surgical treatments for epilepsy, movement disorders, and psychiatric diseases.
Dr. Donald Crammond, a distinguished clinical neurophysiologist, merits special recognition for his outstanding contributions and leaving an indelible mark on Dr. Richardson's professional and personal growth. Dr. Donald's expertise stems from a rich background in motor control neuroscience at NIH (via Glasgow and Montréal). His arrival in Pittsburgh in 1997 brought a wealth of knowledge and a deep commitment to patients.
Notably, Dr. Crammond is also an expert in scotch whisky. Below is a picture from the scotch tasting workshop that he conducted, serving as the final Brain Modulation Lab meeting in Pittsburgh in June 2019.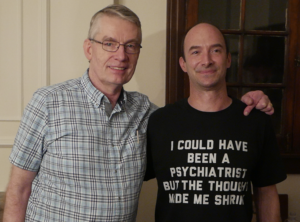 Dr. Richardson wearing a t-shirt received as a gift from Dr. Ian Kratter, a former lab member and psychiatrist at Stanford.
References and Links:
Speech and electrophysiology during DBS surgery: 
Chrabaszcz, A. et al. Simultaneously recorded subthalamic and cortical LFPs reveal different lexicality effects during reading aloud. J. Neurolinguistics 60, (2021)
Dastolfo-Hromack, C. et al. Articulatory Gain Predicts Motor Cortex and Subthalamic Nucleus Activity During Speech. Cereb. Cortex 32, 1337–1349 (2022)
Employing ECoG during DBS surgery:
Sisterson, N. D. et al. Electrocorticography During Deep Brain Stimulation Surgery: Safety Experience From 4 Centers Within the National Institute of Neurological Disorders and Stroke Research Opportunities in Human Consortium. Neurosurgery 88, E420–E426 (2021)
Brain Modulation Lab:
Lab logo: "brain on holiday" designed by Italian illustrator Alberto Ruggieri. 


The 'surfing brain' as we fondly call it here on Stimulating Brains not only represents Dr. Richardson's personal connection to the sport but we also think serves as a symbol of the lab's innovative and dynamic approach.